Why OER
Most of the energy behind OER - and free and low-cost student materials in general - comes from the high cost of textbooks.
But do you know just how expensive textbooks really are? Here's a little context:
As can be seen in the chart below, there has been a disproportionate rise in college textbook prices over the last decade, according to the U.S. Bureau of Labor Statistics.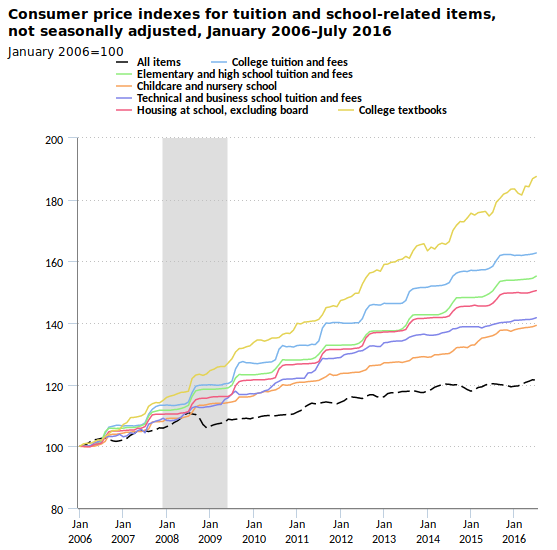 Not convinced? Check out the chart from TextbookSpyder.com for comparisons to other expensive things we need...like housing...since the late 1970's.
This trend in prices has led to reduced book purchases as well as declines in registration and increases in leaving courses, according to a student survey done by Florida Virtual Campus in 2014 and repeated again in 2016.
Slide: CC-BY Cable Green.
Benefit for Students
Benefit for Faculty
Ownership of discipline knowledge
Real time customization of content
Freedom to focus student learning
Better alignment with SLOs
Increased richness and variety in auxiliary content
Showcases research to widest possible audience
Social justice - accessible education for all
The Open Educational Group also conducts empirical research on the impact of OER adoption. You can also check out the interactive tool called OER Adoption Impact Explorer, from Lumen Learning, to explore some of the ways OER can have an impact on your campus.